AXOR and hansgrohe
2020/21 sales manuals – A good selling resource in any pitch
Are you one of the many bathroom and kitchen professionals for whom the AXOR and hansgrohe brands' sales manuals provide great selling points and planning tips?

Download the latest editions here – for that added expertise in your customer consulting. 
For expert consulting and planning in the bathroom and kitchen
AXOR and hansgrohe sales manuals are THE practical tools for our specialist partners in retail and trade, as well as for planners and architects. These detailed, richly illustrated compendiums will support you in consulting and planning for bathroom and kitchen products. Here you'll not only find the complete product ranges of the AXOR and hansgrohe brands including all new products, you'll also find relevant information on technologies, installation variants, operation, designs and designers, material and cleaning, and the brands in general. 

In short: Our sales manuals provide the best selling points – and added value in every sales situation. With this concentrated expertise, you can increase your sales opportunities and retain your customers in the long term.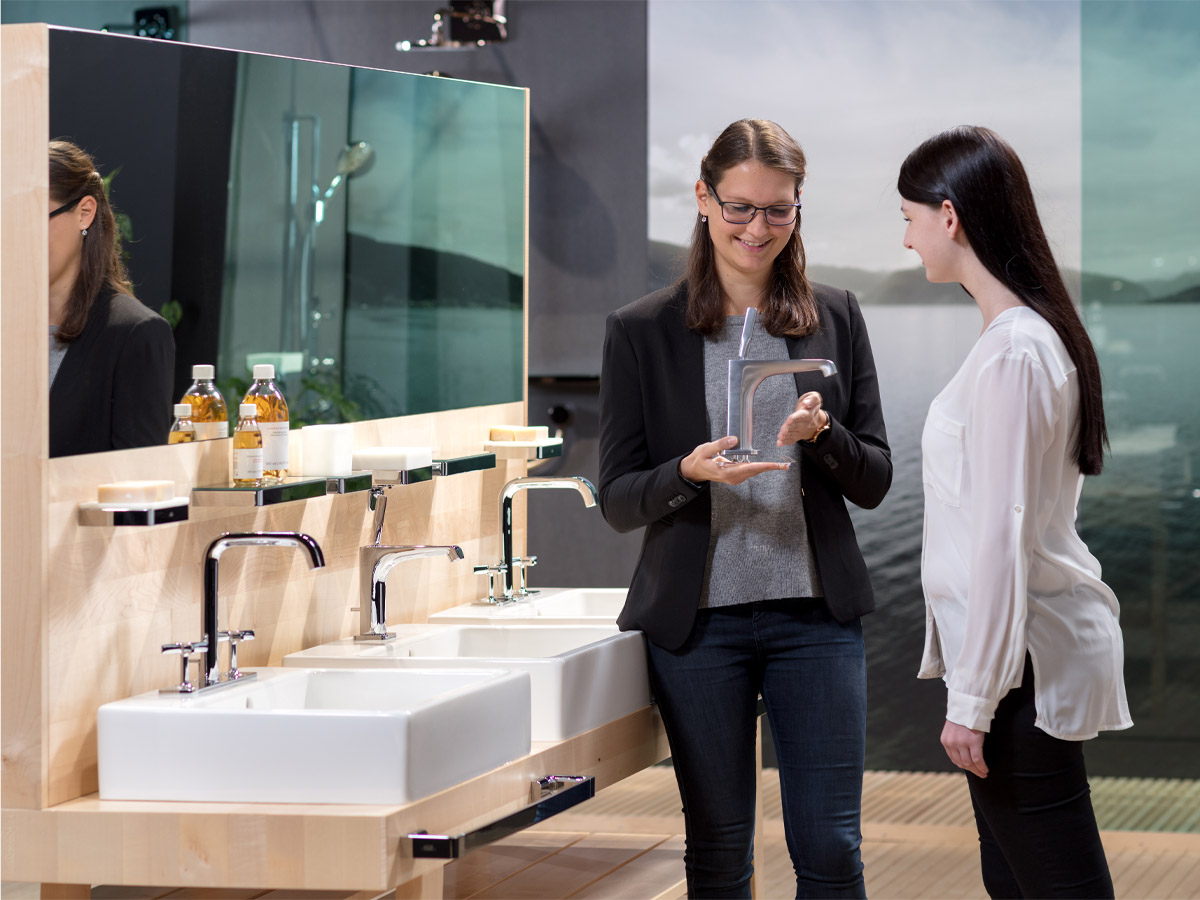 What else is in the professional catalog? 
Clear presentation of all products and information that gets to the point. For easy access to the world of hansgrohe products.
The variety and performance of the products are explained in detail, and important features are visually highlighted.
Advantages and benefits are highlighted in an eye-catching way, so you have the best arguments ready at hand.
Product range overviews show all the important products in a category at a glance. 
Installation tips, dimensional drawings, and installation examples provide concrete assistance and much more.
AXOR sales manual: Even richer in content and more convincing
For more than 25 years, AXOR has stood for designing personalized bathrooms. Customers and professionals will find an impressively wide range of around 2,000 products from the AXOR collections and AXOR ranges. The AXOR sales manual lists all products with the most important arguments. For example the comprehensive AXOR shower range with its many exclusive pieces. Bathroom professionals will find select product combinations, including dimensional drawings for shower planning.
What else will you find in the professional catalog? 
Unique development stories and the idea behind each AXOR designer collection.
Numerous international design awards – including many best-of-best and gold awards. 
The AXOR design lexicon, which explains many important terms from the world of architecture and design.
Customization services, like AXOR FinishPlus and AXOR Signature, which offer even more possibilities for designing personalized bathrooms.
Prestige projects and references from hotels and residences all over the world, and much more.