Quick search in the Spare Parts Shop
Whether faucet or shower head: Find spare parts for AXOR products easily online
In the Online Spare Parts Shop, you can quickly and easily find spare parts for AXOR products such as faucets, shower heads, accessories, or drain technology for sinks and bath tubs. Additional information such as dimensional drawings or installation manuals are also available, making the Online Spare Parts Shop a valuable information and service tool for your daily work.
Convenient online search: Spare parts for AXOR bathroom and kitchen products
Products from A to Z: The Hansgrohe Spare Parts Shop helps you find the right spare and service parts for any AXOR product – past and present. With a clearly structured initial search function by brand or application area, such as shower or sink, and various other selection options based on product range, category, or surface finish, finding the right spare part is simple and user-friendly. After clicking on the corresponding product, the Online Spare Parts Shop displays a list of possible spare parts with the corresponding article number. Or you can go via the exploded view, which is displayed immediately and also lists all available service parts. Product data sheets, installation manuals, and cleaning recommendations are also available for download. Also available via the Online Spare Parts Shop: special parts or products such as faucet grease or silicone spray. With the electronic Spare Parts Shop, you can quickly and easily search for and find spare or service parts for AXOR products, as well as technical information about faucets, shower heads, accessories, or drain technology for bath tubs and sinks.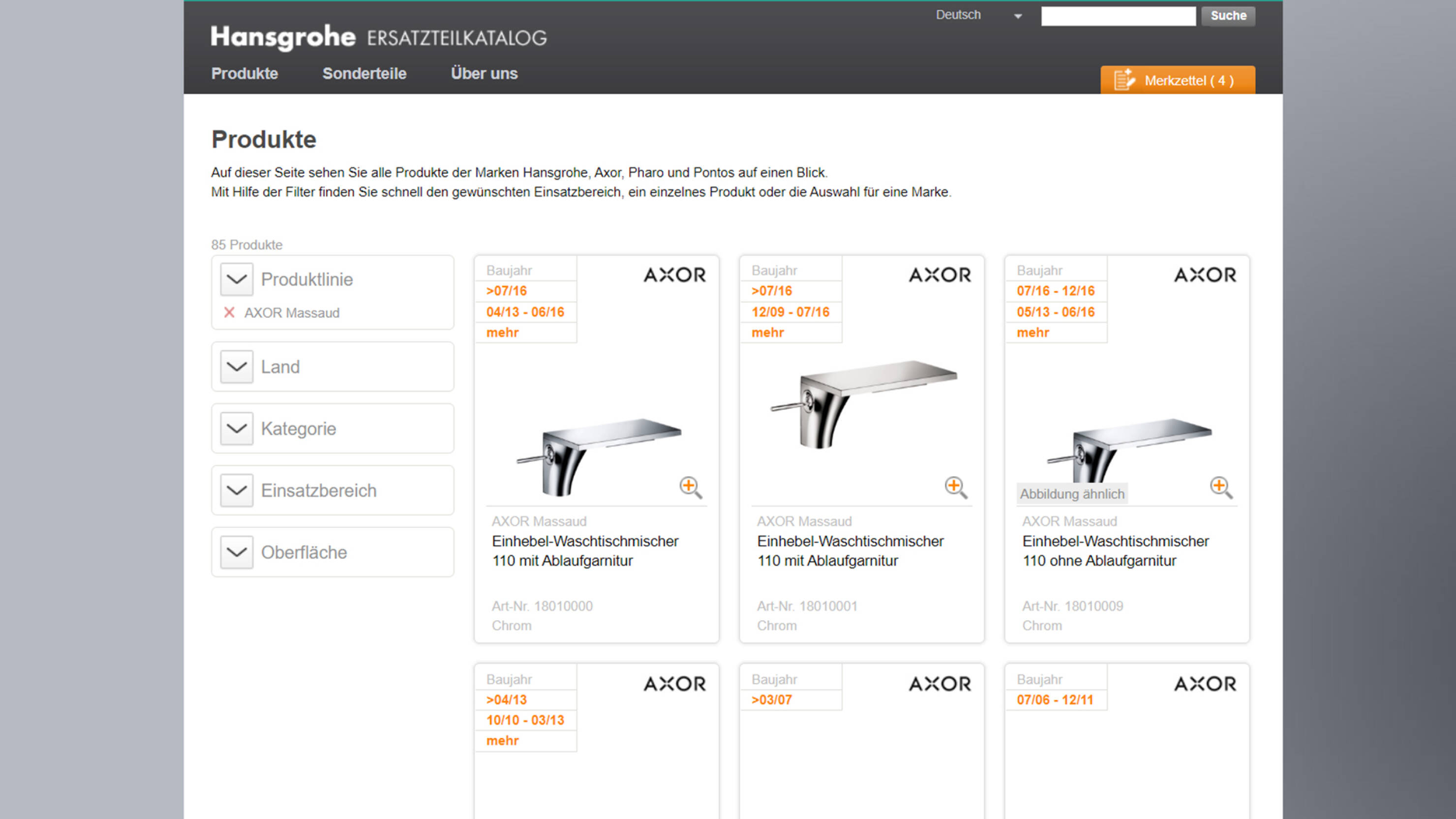 Online Spare Parts Shop
You can find all AXOR spare parts for the sink, bath tub, shower & kitchen sink here.
Saves time: Find the right service part with just a few clicks in the Online Spare Parts Shop
The Online Spare Parts Shop is very easy to use. In just a few steps you can find the appropriate service part, which you can then save in a wish list and conveniently order later.
The first choice is made at the brand level or via the respective area of use for the product, such as the sink, shower, bath tub, bidet/WC, or kitchen.

After clicking on the corresponding area of use, a screen with another selection menu will open. Here, categories such as bathroom faucets or showers are broken down in detail – for example, into hand showers or bath tub fillers.

Another way to get to the right product is to search for the corresponding AXOR collection. By clicking on AXOR Montreux, for example, all the products in the collection – from the shut-off valve to the faucet – are listed.

The various spare parts for the respective product are shown in an exploded diagram and in a list with article number, price group, and packaging unit. Clicking on the "Note product" icon automatically creates a notepad, which can easily be expanded, printed, or saved. Especially important for planning: A symbol in the traffic light colors red, yellow, or green indicates the availability of the spare part.