More service, fewer complaints
Maintenance & cleaning guide: How you and your customers can benefit
Your disgruntled customer is complaining about a faucet or shower that they have apparently cleaned incorrectly and, in the process, damaged. This doesn't make for a very good mood, even for professionals. Limescale, dirt, and grease can be removed easily and gently. Our advice: Give cleaning tips during the process of selling AXOR and hansgrohe products! It's a super service that will have everyone satisfied.
Proper cleaning of hand sprays and overhead showers: Remove limescale, avoid damage
Maintaining shower heads, even large overhead showers: It's not rocket science. However, the wrong means and methods can damage the high-quality surfaces or even the inside of the products. At worst, this will reduce their function.
To avoid this, your customers should do the following:
Always use a soft, clean cloth – but never abrasive items such as pad sponges or microfiber cloths

Don't use steam cleaners – high temperatures can damage the showers

Only use gentle cleaning agents, based on things like citric acid

Never use cleaning agents containing hydrochloric acid, formic acid, chlorine bleach, or acetic acid – they're much too aggressive. Cleaners containing phosphoric acid can also only be used under certain conditions

Never mix cleaning agents

Do not spray cleansers directly on showers – spray mist can penetrate into the shower and cause damage. Instead, pour cleaning agents on a soft cloth and wipe the surfaces with that

Finally, rinse the showers thoroughly with clear water.
Proper cleaning of sink faucets: Spotless and decalcified in no time
To ensure that heat, cold, fats, and acids don't damage the premium AXOR surface finishes and hansgrohe kitchen faucets, your customer should take good care of them regularly. This way, possible secondary damage caused by calcification can be avoided right from the start.
Never clean kitchen faucets with aggressive cleansers. Keep away from chlorine bleach, formic, acetic, or hydrochloric acid, abrasives, or sponges!

We recommend agents based on citric acid. Cleansers containing hydrochloric acid or acetic acid should not be used, as these can cause considerable damage.

Do not spray faucet directly with cleansers or mix cleaning agents. A better choice: Pour the agent on a soft, lint-free cotton cloth. After wiping and letting sit, rinse thoroughly with clean water.

Finally, wipe dry with a dry cloth. For a brilliant result.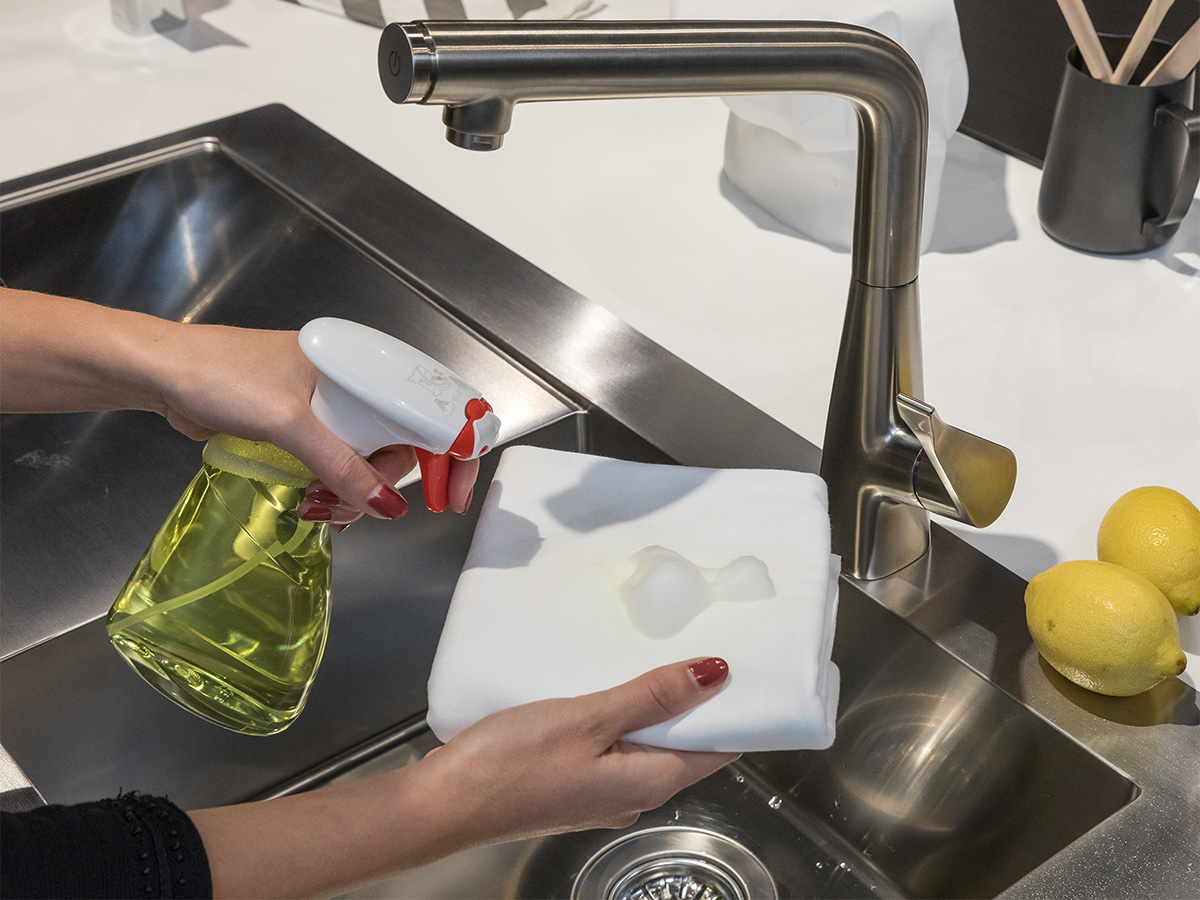 Proper cleaning of bathroom faucets and aerators: Clean and lime-free in five steps
Step 1: Bathroom faucets are best cleaned with a soft cotton cloth, which should only be moistened when necessary. Most messes can be removed with gentle wiping. Please do not use scratch sponges, brushes, or microfiber cloths.

Step 2: Limescale residues like to collect in corners and at joints. Use a mild cleaner based on citric acid. Important: Do not spray the concentrate directly onto the faucet, but onto a cloth instead. Then wipe clean.

Step 3: Thoroughly rinse the faucet with clear water.

Step 4: Repeat the first step to remove residues and give the surface a radiant finish.

Step 5: If the spray pattern is no longer beading nicely, the aerator has become calcified. If you place it in warm water with a little cleaning agent, deposits will dissolve very easily.
QuickClean: Limescale and dirt can be easily rubbed off with the fingers
Many households suffer from 
chalky water
. To simplify care for bathroom and kitchen products, we have equipped many AXOR and hansgrohe faucets and showers with
QuickClean technology
. Thanks to this fast anti-limescale function, residue can be easily, mechanically removed. For customers this means less cleaning effort and a more beautiful spray pattern.