Maximum expressiveness and exclusivity
Gives the perfect finish: Diamond machine in AXOR production
After intensive research, the designer's desire for a faucet that shines like no other; brought the AXOR experts to a technology originally used for the optics and aerospace industries: the diamond machine. With AXOR, the diamond tool is used to produce the high-gloss surfaces and the diamond cut of the AXOR Edge faucets.
When exclusivity expresses itself through perfection and quality
Diamond machines are used in the optics and aerospace industries to achieve the highest precision and surface quality. The experts from the Product Development department at AXOR also rely on machining with a diamond tool to create a surface shine that is second to none, or to mill textures – line by line, down to the micrometer. The result is a jewel that becomes a visual and haptic experience through its brilliance and partial diamond cut: AXOR Edge.
The faucets in this exclusive bathroom collection are one-of-a-kind jewels. With the AXOR Edge, designer Jean-Marie Massaud's aim was to turn an everyday object into a sculpture that evokes emotions with its precise edges, high-gloss surfaces, and refined textures. And like in the jewelery industry, diamond tools are also used for the AXOR Edge. Here, the highest precision, finest details, and most premium materials ensure perfection and quality – and thus exclusivity that is off the beaten track and stands for perfect refinement.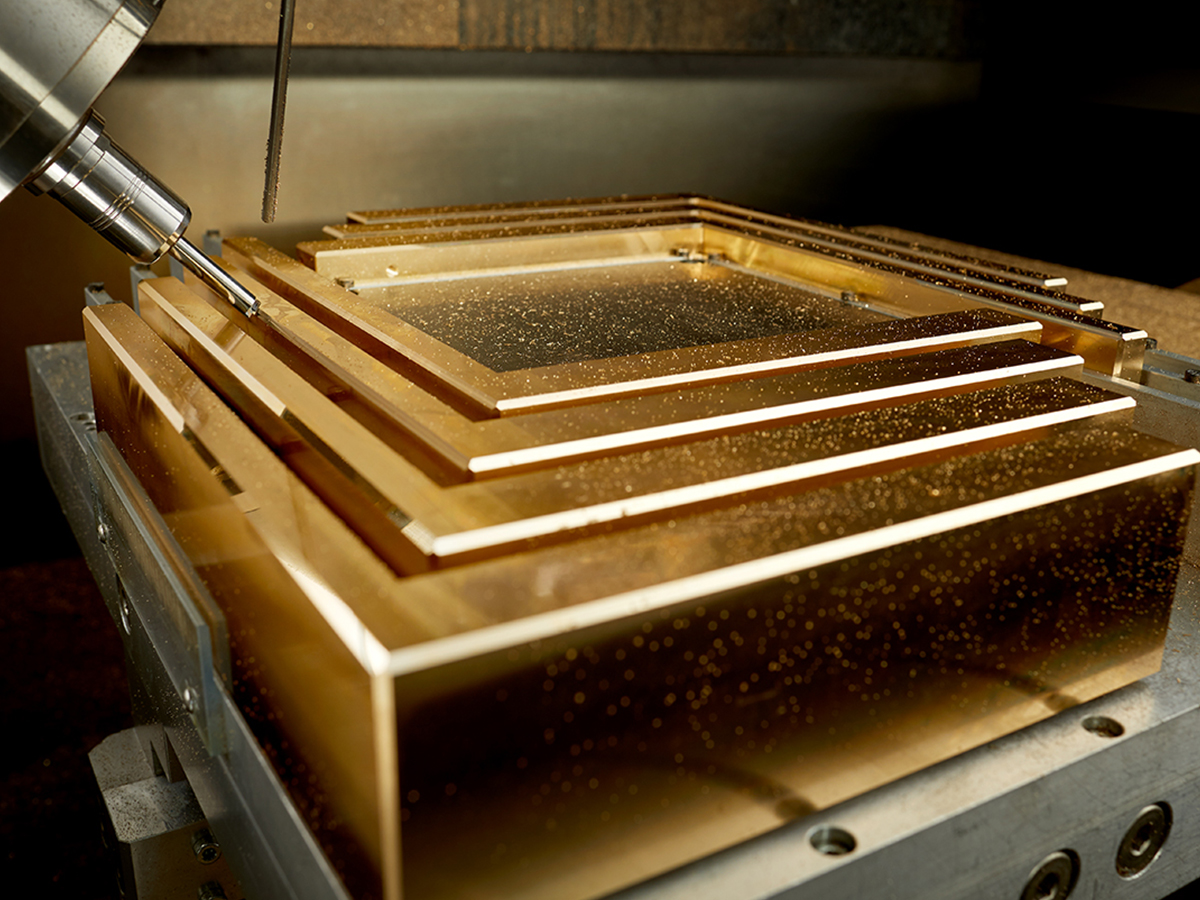 Diamonds: Exclusive key to absolute precision
The designer's desire for a faucet with maximum shine was a challenge for the product developers at AXOR. The aim was to produce even more brilliant surfaces, to create even more precise edges that reflect the light perfectly. The solution came in the form of a diamond machine. It can carry out the 45° chamfer and the surfaces with a precision and evenness never seen before. Here, the chamfers are removed with a diamond tool in such a way that they all meet precisely. In the diamond machine, the surfaces receive the finished quality in their final state without any unevenness or subsequent grinding or polishing. Because every scratch, every elevation by a grain of dust impairs the result. The location of the diamond machine is also crucial: Only excellent stability ensures that there is no friction or vibration. This is ensured by six air dampers that compensate for even the slightest movement from the ground. And it takes time: Overall, the machining process takes twice as long as the conventional grinding and polishing process.

The textures refined with the diamond cut are produced with the same process. Here, too, diamonds mill fine pyramid frustums into the surface of the solid brass block line by line – with micrometer precision and the smallest tolerances. Luxurious details of a sculptural faucet, which here becomes both an optical and haptic highlight on the sink, the bath tub, or in the shower.