AXOR faucets in special surface finish
This luxury residence stands for a new kind of hospitality – all the way to the bathroom
Those who reside or are hosted here will enjoy a unique experience in Munich – and AXOR Urquiola faucets in the special Brushed Bronze surface finish: The BEYOND by Geisel is a luxury residence that defines hospitality in a completely new way: with exclusive services and elegant furnishings that are perfectly complemented by customized AXOR faucets.
Intensify the luxury experience for guests: Refined AXOR faucets
It stands for hospitality in a completely new way: The BEYOND in Munich has over 19 elegantly furnished guest rooms, a 24-hour, perfectly equipped communal kitchen, a lounge, and a wine parlor. The luxury residence's exclusive services include an in-house chef who can be called upon to entertain guests, and a concierge who is always available with tips on Munich by day and night.

Its combination of elegance and intimacy makes the BEYOND a place that feels like home. The residence offers its guests the opportunity to order their favorite dishes at any time, to use the open common rooms for meetings, to invite and entertain friends – or to retire to their exclusive guest room. Customized faucets from the AXOR Urquiola collection in the special Brushed Bronze surface finish await them there. Beautifully refined, they are in no way inferior in elegance to the residence and intensify guests' luxury experience in the bathroom.

"The BEYOND by Geisel combines personality and exclusivity. AXOR offers a level of customization and a luxurious attention to detail that supports precisely this idea," says Robert Schröder, Resident Manager, BEYOND by Geisel.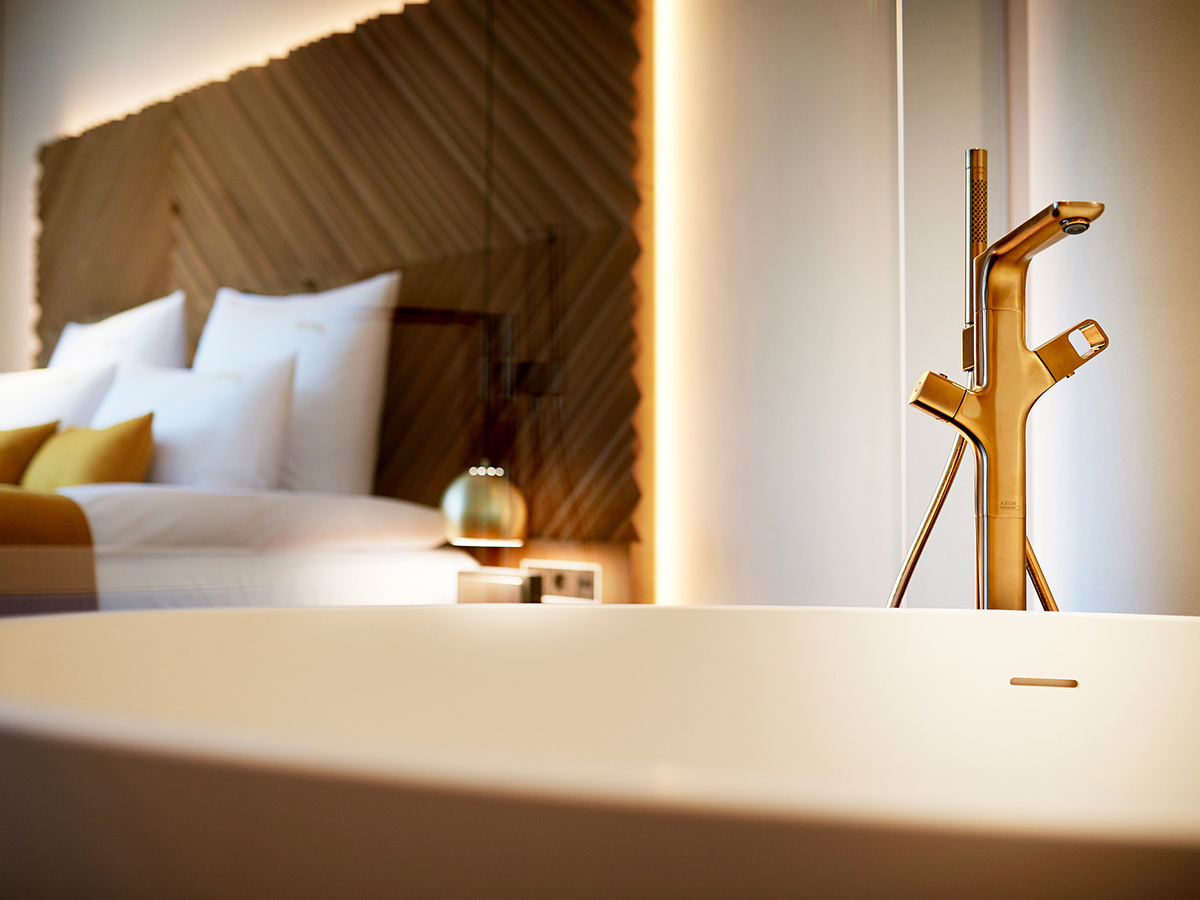 Exclusivity in bronze: AXOR Urquiola faucets in the Brushed Bronze special surface finish
The planners and managers of the BEYOND chose AXOR Urquiola faucets in the special Brushed Bronze surface finish for the residence's bathrooms. With their brushed bronze-tone surface, the designer faucets combine an unusual form reminiscent of 1970s industrial design with a luxurious yet warm appearance. Just as the residence itself stands for the combination of exclusivity and personality, the AXOR Urquiola faucets give the bathroom a very individual and at the same time wonderfully homely atmosphere.
Like all special surface finishes, Brushed Bronze belongs to the extensive color range of AXOR FinishPlus. The faucet is not only refined in terms of color; the PVD process gives it an additional metal layer that makes it extremely resistant to external influences such as scratches or cleaning agents. This means that AXOR faucets with FinishPlus surfaces are predestined for areas that are subject to permanently high stress, such as the hotel bathroom or even the bathrooms of a luxury residence like BEYOND in Munich.