The know-how for your business success
Hansgrohe seminars
Continuously learning means you are always up to date and qualified for the challenges of our fast-moving industry. If you can expertly pass on your extra knowledge to your customers and employees, you can make a top impression which ultimately leads to sales! 
We'll train, motivate, and inspire you
What? Want to master the latest bathroom and kitchen technologies? To get to know modern marketing instruments or trends in interior design? To qualify yourself with top-quality methods in operational and personnel management? Then you've come to the right place.
Who? Sanitation professionals, trade entrepreneurs, exhibition consultants and planners, as well as newcomers to the industry and trainees can benefit from our range of seminars.
Where? Our experts are on hand to train throughout the year at the very place where the know-how is collected, at the Hansgrohe Aquademie in the Black Forest. And throughout Germany at a regional training location near you.
With whom? With the best in their field. Get to know our training coaches.
How to sign up? Before you register for a seminar, please read the eligibility requirements. Then fill out the form.
What else? Some of our seminars are recommended by the German Sanitary Industry Association (VDS) as part of the training for bathroom managers. We look forward to hearing from you!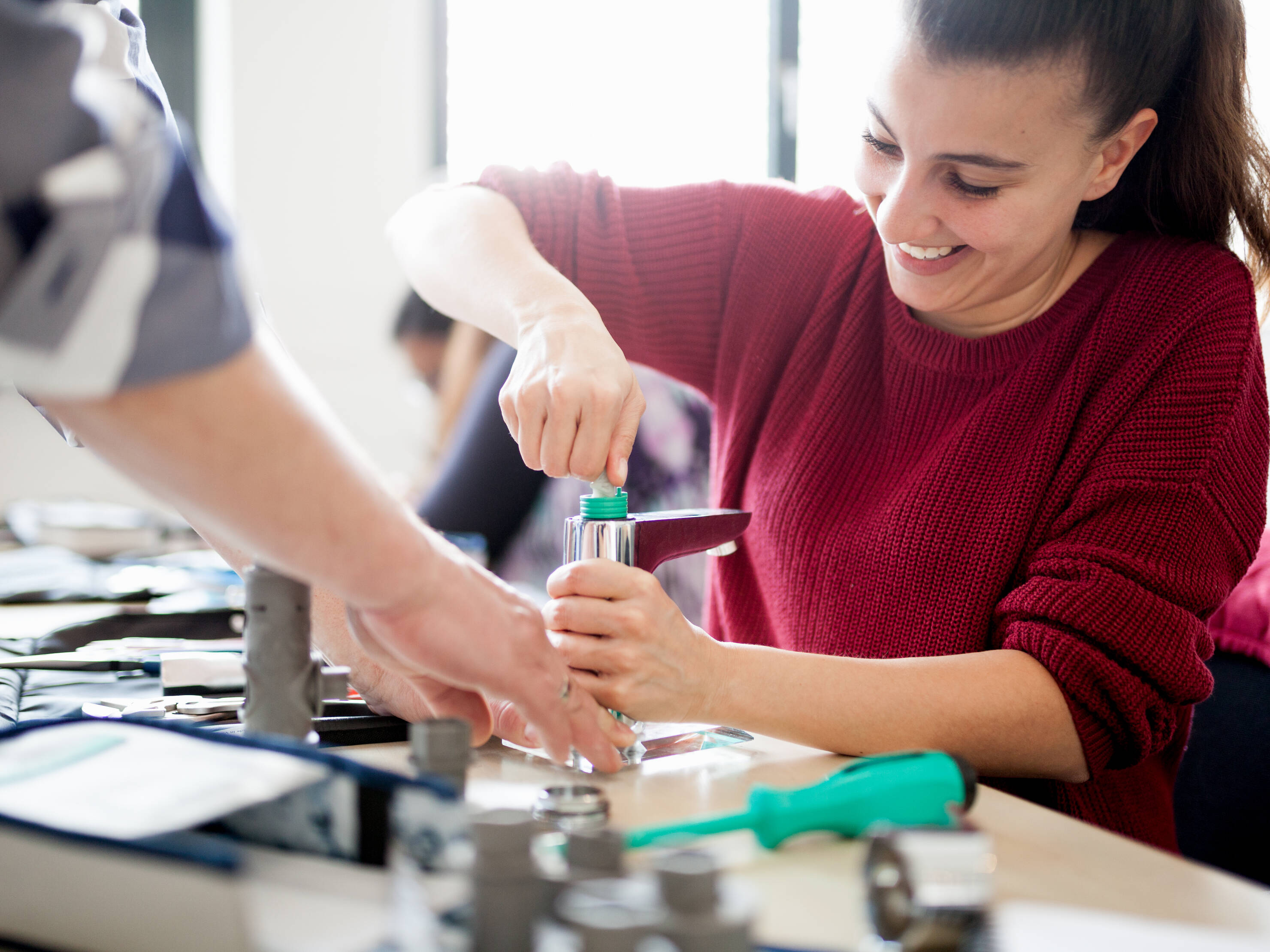 The offer: From excellent leadership to professional advice to perfect design
Seminars for strategic business management
Hardly anyone is born a leader. Most people invest in intensive personal development. With us, you will discover your potential, your top talents – and develop compelling leadership skills.
Seminars on consulting and sales
Communication is more than a personal conversation. It comprises the entire appearance of your company. The good news: You can learn effective marketing – with us.
Seminars on bathroom design
Design in the bathroom: What your customers expect today. It's not just about the individual sanitary products having a good shape. It's also about the design of the room. Learn to think in big design solutions!
Seminars for sanitation engineering
Whether faucets, showers, shower systems, or accessories: In your job, do you not only have to master product innovations and classics, but also standards and regulations? With us, you will learn the basics of sanitation engineering and special tricks for when you can't progress with standard solutions.
Seminars for architects and planners
The bathroom has taken on a new significance in architecture. For architects and planners, the design task has changed fundamentally. We'll help you develop custom room solutions for the bathroom and adjoining living areas.
hansgrohe i-Club seminars
Members of the i-Club can enjoy many seminars with exclusive content and help develop innovative ideas. They receive impulses for their personal and professional lives – and are part of a strong community.
AXOR PLUS+ seminars
The partner program for leading bathroom designers is as exclusive as our luxury brands' collections. AXOR PLUS+ partners can experience AXOR up close – in exciting workshops and at exclusive events.